GLASS (or Talking Books) provides FREE library services for Georgia residents who are unable to read standard print materials due to visual or physical impairment.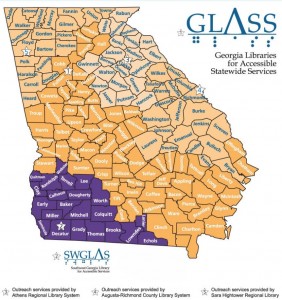 To obtain an application for service, follow these steps:
Patrons can obtain an application from the GLASS website or at their local public library.
Patron must complete the application. Assistance may be required.
Application must be signed by a certifying authority.
        I.e. Doctors, RN's, Physical therapists, Eye doctors, Social Workers, and in some cases, Librarians.
Patron must return the completed application by mail, fax, email, or to their local librarian or GLASS specialist.
If you have submitted an application or are a current GLASS patron, please call 1-800-248-6701 with any questions regarding the status of your application, talking books machine, book requests, or BARD.
If you are interested in having a GLASS Outreach team member present information about GLASS and talking books, please call the office at 706-821-262, email glassaugusta@gmail.com, or visit the Augusta outreach office on the third floor of the Headquarters Library located at 823 Telfair Street in downtown Augusta.