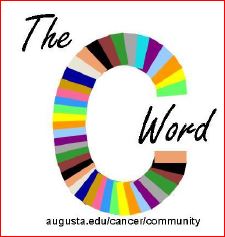 As 2017 dawns, we are hopeful for the New Year and we are grateful for our patients and their families who have entrusted the Georgia Cancer Center with their care. We are also thankful for the family member caregivers, who are a vital member of the patient's team.
cancer.augusta.edu
Cancer is the 2nd most prevalent health condition overseen by family caregivers in the U.S. There are 2.8 million adult cancer caregivers nationwide. Most of the cancer caregivers are women caring for a relative (88%), a parent/parent-in-law (44%), a spouse or partner (16%) or a sibling/sibling-in-law (14%).1
Primary roles of cancer caregivers include communicating with providers, monitoring the severity of the condition, advocating with providers/services/agencies, arranging community services, coordinating with government agencies, and, in some cases, facing end-of-life decisions. Almost ¾ of cancer caregivers provide medical/nursing tasks, oftentimes with no prior training, according to the National Alliance for Caregiving. Fortunately, resources and support are available for cancer caregivers. Learn more at: CancerSupportCommunity.org, helpforcancercaregivers.org, and caregiving.org/cancer. The Georgia Cancer Center invites cancer caregivers to attend our regularly scheduled survivor support groups. For info: augusta.edu/cancer/community/support-groups.php.
Resources:
"The C Word" is a news brief of the Georgia Cancer Center at Augusta University. For cancer information visit: www.augusta.edu/cancer/community. To request exhibits or speaking engagements, contact Christine O'Meara, MA, MPH, Director, Cancer Information and Awareness at comeara@augusta.edu or 706-721-8353.
1 National Alliance for Caregiving Research in partnership with the National Cancer Institute and the Cancer Support Community Report: Cancer Caregiving in the U.S. An Intense, Episodic, and Challenging Care Experience (2016) caregiving.org/cancer
Mailing Address: Office Address: T 706-721-8353 1120 15th Street, BC1109 1412 Laney Walker Blvd.,CN 1171D Augusta, Georgia 30912 Augusta, Georgia 30912 F 706-721-3511 Office of Information and Awareness