September is Library Card Sign-up Month
Transform your school year with a library card–sign up for your PINES library card today!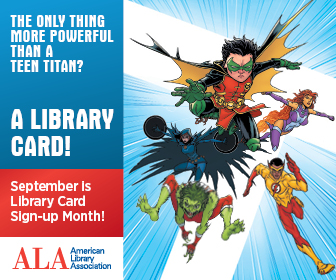 The value of today's libraries goes beyond books. Librarians are leaders in their communities – helping people of any age to find what they need to help improve their quality of life. This September, the six branches of the Augusta-Richmond County Public Library System (ARCPLS) are joining with the American Library Association and libraries nationwide for Library Card Sign-up Month, an initiative to make sure that every student has the most important school supply of all – a free library card.
Libraries build a foundation for children's future success starting from the earliest stages of development. Librarians play a key role in helping children develop the basic tools for school readiness by teaching families the components of early literacy. As of 2010, children's programs accounted for nearly two thirds of library programming in the United States, with more than 2.3 million children's programs nationwide. Older students can also find tools for success at their local libraries, where they can access high-speed Internet and digital tools, as well as working with trained professionals on how best to use these resources.
As new technologies evolve, libraries continue to lead the way in providing equity of access to digital tools and media, which has become increasingly important in high-poverty areas where students are less likely to have a computer or internet service at home. Close to 90 percent of libraries offer digital literacy training to help students of all ages navigate today's changing world.
Resources at ARCPLS are available to anyone with a library card. Students can turn to the library for materials, programs and knowledgeable library staff that support academic achievement.
"Our library provides access and programs for students of all ages," says Library Director Mashell Fashion, "For preschool-age children, we offer early literacy resources and storytimes to encourage school readiness; for older children and teens, we supplement education with multidisciplinary programs; and for nontraditional students, we have GED resources. We also offer a wide variety of print and online materials as well as programs for lifelong learners, whether they are interested in do-it-yourself car repair or learning Chinese. There's really something for everyone, and it's all free with a library card."
Throughout September, ARCPLS will host multiple library card sign up events throughout Richmond County.
For more information about how to sign up for a library card, visit the any of the six Augusta-Richmond County Public Library System branch libraries in person or online at arcpls.org