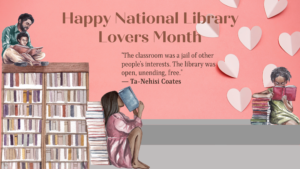 Happy Library Lovers Month! Libraries are amazing places full of knowledge, inspiration, and creativity. They provide us with access to books, magazines, and other resources that help us learn more about the world around us.
The library provides free access to books, magazines, newspapers, and other media. It also provides access to computers and the internet, as well as other technology and services such as 3D printing and scanning. Additionally, libraries offer free educational programming, such as lectures, classes, and workshops, that can help people learn new skills. Finally, libraries are a place where people can gather and interact with one another, fostering a sense of community and collaboration.
So as we celebrate this special month, let's all take a moment to appreciate the incredible work that librarians and library staff do to keep these invaluable resources accessible to everyone. Thank you for all that you do!