Phillip Margolin's novels have hit every major best-seller list across the country, including The New York Times, Wall Street Journal, USA Today, Los Angeles Times and Publishers Weekly. The best-selling author and Edgar Award nominee stuns with an oldie but goodie in Lost Lake, an explosive thriller about how a young journalist's "paranoid" theories just might be true.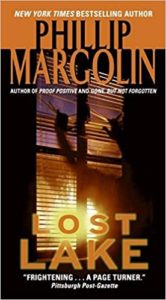 On a summer night in Portland, Oregon, violence erupts at a Little League game — and attorney Ami Vergano watches in horror as the quiet, gentle artist she recently befriended does the unexpected and unthinkable . . .
In a cheap motel room in Washington, D.C., Vanessa Kohler — ex-mental patient, supermarket tabloid reporter, and estranged daughter of a powerful general running for president — views a news broadcast of the bizarre incident and believes she's found the only witness to a deadly conspiracy.
Caught between a possible madwoman and a confessed mass murderer, between reality and delusion, Ami races to unearth the terrible truth about dark events that may or may never have happened twenty years earlier in a secluded cabin on Lost Lake.
The Details
The main character, Vanessa Kohler, is a tabloid reporter living and working in Washington, D.C. She writes fantastic stories about a vast government conspiracy headed by General Wingate, a popular presidential candidate who also happens to be her father, and most dismiss her as a crackpot using sensationalism to sell papers.
Drawing from 25 years of courtroom experience to create nuanced characters and high-intensity action, Margolin's novels just keep getting better and better. Critics report that "Lost Lake," with all of its murderous intrigue and plot-driven suspense, will not disappoint.
Phillip Margolin fans take note: HarperCollins Publishers released the author's follow up hardcover thriller,  Proof Positive , in which the author relates just how unreliable CSI evidence can be-when misused by a remorseless killer.
Find it in the stacks at FIC MAR.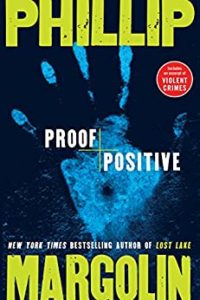 Doug Weaver is a defense attorney who always believes the best of his clients, and Jacob Cohen, on trial for murder, is no exception. Jacob may be homeless and mentally ill, but Doug can't imagine that this meek and intensely religious man could have killed and dismembered a woman. Yet Bernard Cashman, a forensic expert at the Oregon State Crime Lab, finds evidence that indisputably connects Cohen with the crime." "Frustrated and confused, Doug consults Amanda Jaffe, star of Margolin's spine-tingler Wild Justice. Amanda and her father, Frank, are working on a case that seems completely unrelated – gangster Art Prochaska is accused of murdering an informer. When Amanda starts looking too closely at the seemingly air-tight evidence in these two apparently unconnected cases, people start to die – and she discovers that a madman with the power to alter the truth is on the loose.