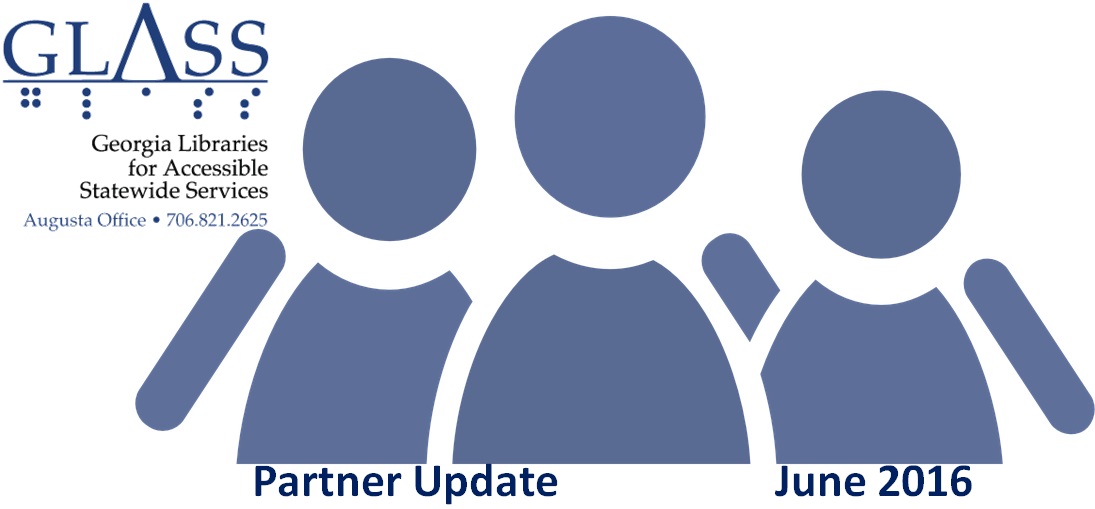 Howdy Partner!
The Talking Books Augusta Team is out and about spreading the word about GLASS and BARD.   As we have found out, a great number of people are not familiar with Talking Books nor are they aware it is a free service to Georgia residents. The service offers digital and downloadable books to program participants who are blind, visually impaired and physically disabled.
Who Is Eligible for the Service?
Anyone who is unable to read or handle standard printed materials as a result of temporary or permanent visual or physical disability.
Persons who are legally blind or cannot see well enough or focus long enough to read standard print, even with glasses.
Persons who are unable to hold or turn pages of print books.
Persons who are certified by a medical doctor as having a reading disability.

Call us for more information at 706-821-2625 or email us at glassaugusta@gmail.com.
Not Your Average Summer Camp
No cabins, canoes, or fire-side sing-a-longs here folks! This is a Summer Camp specifically directed at introducing your child to the various assistive technologies that are out there.
The campers will become familiar with these assistive technologies and gain confidence using them. What they learn at camp will empower them to live more independently and approach the world and their life from a new perspective.
For more information, please visit http://www.tekquest.org/
The Augusta-Richmond County Public Library Systems will be closed July 3-4, 2016.

Our Town.
It is such a pleasure driving through the small towns of Georgia really getting an understanding of the communities and patrons we serve. This little beauty is from Mitchell, Georgia in Glascock County. According to the United States Census Bureau, the town has a total area of 1.5 square miles (3.9 km2), all of it land. As of 2000. the population of Mitchell was 173.  
Please welcome Our Newest Partners!
The Charlie Norwood VA Center in Augusta, Georgia.
Augusta VA Medical Center
950 15th Street Downtown or
1 Freedom Way Uptown
Augusta, GA 30904
706-733-0188
Washington Commons Evans Senior Living & Retirement Community

100 Washington Commons Dr
Evans, GA 30809
Jefferson County Senior Center, Louisville Georgia
Jefferson County Leisure Center
209 E 7th Street
Louisville, GA 30434
A Trip the Library
As a kid, I could not wait for the Book Mobile to come to our neighborhood. I would always have a list for Mr. Willie, who drove the truck.  As I got older and my reading needs blossomed, I began to make my own money so I could take public transportation to the downtown library in Birmingham.  Each time I walked through the doors, I had a feeling of wonderment come over me.
All these years later, I still get that same feeling walking through the doors of a library. It doesn't matter how big or how small, the public library is, it came be  the starting point for many dreams. It is now, my sincerest pleasure to share with some of the libraries in Region 4.
This is the Sardis Library in Sardis Georgia.  Sardis is a part of the Greater Clarks Hill Regional Library System. It is a quaint library in a storefront on Charles Perry Avenue.
Rachel Kee, an Outreach Specialist, visits the Laurens County Public Library.  The Laurens County Public Library is the headquarters of the Oconee Regional Library system.

We also had an opportunity to stop in for a visit at the Screven County Library.


Until next time, we hope to see you as we are out and about in your neck of the woods.