Laura Durham's award winning, first in a series novel Better Off Wed is perfect for those who love a little murder along with wedding magic.
This book is available at your local Augusta-Richmond County public library. Place a hold online at gapines.org or by calling your favorite library branch arcpls.org/locations.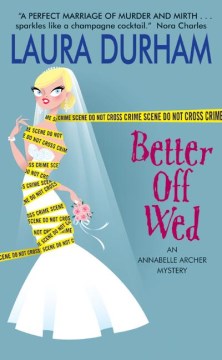 Wedding planner Annabelle Archer is saddled with a Mother of the Bride who would make saints weep and put the zilla in Momzilla. In short, this mother is one of the worst clients Annabelle has ever had.
But the big day has arrived at last, and Annabelle is ready to relax, until she trips over the body of the MOB in a dimly lit staircase. Poison is possible and Annabelle's caterer friend Richard, or rather, his food, is the number one suspect.
Poison is bad for business.  In spite of warnings from the detective in charge of the case to cease sleuthing, Annabelle is ready to follow a hot stream of D.C. society gossip to unmask a killer and clear Richard's name.
With the help of her assistant Kate, Annabelle gathers plenty of clues.  The victim's best friend is sleeping with the victim's husband. The victim is sleeping with a high-ranking D.C. official and the official's wife knows about the affair. The suspects keep piling up until the Father of the Bride and ex-husband of the victim is arrested. But Annabelle's not happy with the solution at all, too many loose ends. What's needed is a wedding planner who is expert at tying up loose ends until she delivers a killer.
Make sure to place a hold on this book and get it at your local library, either at the desk or through Curbside Pick-Up.