Some people say they took up scrapbooking because they felt guilty about having so many boxes of photographs gathering dust in the attic. Others have taken to digital scrapbook because they have so many online photos and images in their phones and on social media. Maybe there is a way to marry both worlds.
What is digital scrapbooking?  Well, it is basically taking the art of scrapbooking onto your computer!  There are many things you can't do in traditional scrapbooks that are available to you as a digital scrapbooker.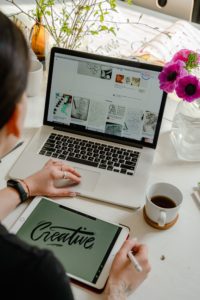 In simple terms, scrapbooking is the practice of combining photographs, memorabilia, and written narratives, poetry, quotations, stories, or other textual content into a scrapbook style album. A few scrapbooks are mass produced, but most are unique, singular publications. They can contain an accumulation of all sorts of objects such as newspaper clippings, magazine articles, play bills, ticket stubs, pressed flowers, and locks of hair.
One of the things you can do is create your own scrapbook paper.  Take any image and turn it into your own patterned paper.  You can make your papers any colors you want to match the photos for your specific layouts!
You can also do some amazing things with your photos when you scrap digitally.  I had a friend create her background paper out of a photo and layer another photo on top of it.  It was amazing!  You can add words and phrases onto your photos, color tint black and white photos, enlarge photos or turn your photos into cartoon drawings, depending on the software.
My personal preference for photo editing software is Adobe Photoshop Elements.  You can make pages any size you want, use fun text effects and add lots of texture styles.  Did you know you can take a rectangular block of color, add dots, layer on texture and it can look like polka dot grosgrain ribbon??  Photoshop Elements does have a definite learning curve and isn't intuitive like Microsoft Word, but once you play with it for a few times, it will get easier. I also like to use Smilebox (this is not an endorsement of this product or site).
Now, playing with page effects on Photoshop Elements is fun for do-it-yourselfers, digital scrapbooking stores take all the hard work out of digital pages.  Plus, the people who design the products are much more capable of making something that looks exactly the way it should.  There is something to be said for the amount of time it saves by just buying a product.  And you don't even have to wait for the item to ship.  You just pay and download for almost instant access!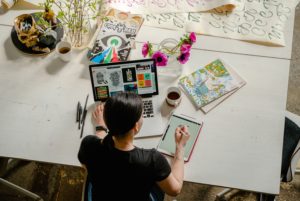 At many online stores, you can download any number of products and print them for your own pages.  They have everything from fonts to cut outs and everything in between! Many are even sometimes free like these items. You can download these from Designbundles.net for free.
One thing to consider is whether or not you plan to print your pages to put in a traditional scrapbook.  If you want to print them out and like the 12″ x 12″ size, you will need to find a printer that will support that size paper.  Most home printers won't accommodate papers that big.  You also have the added expense of the ink required to print out these pages, so you'll have to weigh all these factors to see if it is a cost effective way for you to scrapbook.   Now, there are some online photo developers that can actually print your pages as photos in this size, so that's another option!
Personal scrapbooks provide a unique view into the thoughts, lives, and activities of their creator(s). Some of the best and most valuable scrapbooks are simple, focused documents that are directed to one single topic or subject. As stated above, scrapbooking is the fastest growing craft industry in the United States. The advent of computers has expanded the techniques available for producing, duplicating, and distributing scrapbooks. For example, some personal websites are virtual scrapbooks.
Digital scrapbooking is a fun and new twist on scrapbooking.  It takes some learning, but based on its growing popularity, it's here to stay!
Here are other online Digital scrapbooks services, although I have not tried any outside of Canva.
Best Overall for design: Mixbook   (More costly than others)
Best for Photo Books: Artifact Uprising (Lots of creative control, but has a 50 page minimum)
Best Printables: Canva (Easy but you will need to use https://www.remove.bg/ to get rid of backgrounds first or pay the upprice)
Best for Slideshows: Smilebox (Qucik and easy to use, but you can't upload from social media).