I am jealous of Meg. So jealous of Meg, I could spit. Kate Clayborn's heroine in Love Lettering, Meg is bright, funny, mostly grounded, and above all, highly creative. Meg is a hand-lettering artist who is making a living in New York by creating custom planners and wall art for paying clients. You can add a successful business owner to her list of good qualities.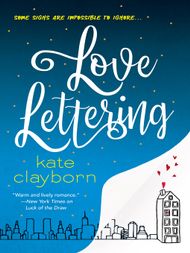 Not that she isn't having problems.  One huge problem is the creative block on a project which might land her a contract with a huge arts and crafts chain to create a custom line of planners and accessories. Another problem is the coldness that's developed between her and her best friend Sibby. And, there is the way that Meg avoids confrontation in both her work and her personal life.
But another problem is a former client, who wants to know why Meg penned the encoded message MISTAKE into his wedding program. Meg's embarrassed that Reid decoded the hidden message and worries that Reid's breakup with his fiancé is a casualty of the secret. She is also worried how this could affect her career and the reputation of the shop she freelances from.
You would think Reid would be the last person Meg would want to have any relationship with. Especially, because he hates New York while Meg has come to love it. To try and change his mind and unblock her creative side, she plans a series of walks to look at old signs for inspiration and show Reid another side of New York. Amazingly, Reid agrees to go along on the walks.
As her relationship with her best friend grows more isolating, Meg reaches out to form stronger friendships with her co-workers as well as a brand-new friendship with a movie star client who happens to be the star of Meg's favorite movie.
All the while she continues to see Reid, their reluctant attraction developing into a liking and then a full-blown affection for one another.
At least until a huge secret that Reid has been keeping from Meg is revealed, and the blowback threatens to swamp not only her business but her carefully crafted relationship with Reid. Can confrontation-shy Meg rise to the occasion, mend her past mistakes, and keep the new friendships she has developed? The only way to find out is to read Love Lettering by Kate Clayborn.
As an aside, this book was chosen by Overdrive's Together We Read Program, a national virtual book club that you can participate in 24/7. For more information access the Overdrive database at the Augusta Richmond County Library's home page, arcpls.org. This e-book and audiobook can be downloaded from the Libby app with no holds for a limited time Feb.10-Feb. 24. Call your branch library for more information.