Kate Daniels, the hero of Magic Bites, would never be called a heroine. Lara Croft from Tomb Raider is too soft to be Kate Daniels. She is grittier, more survivalist, and more kick-butt. She has to be. Her reality is a dystopian Atlanta where magic is eating away at the city and technology can exist only between overpowering waves of magic.
Find Magic Bites on Overdrive or use the LIBBY app (select Georgia Download Destination as your library) today.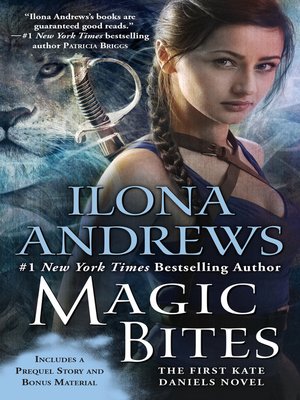 In Kate's world, magic is not on the side of good or evil. Just an impersonal force which the good guys or the bad guys can harness at a terrible cost. Whether they are vampire drivers or knight crusaders, magic can take over a person's life and destroy it.
Kate survives in this world at a mercenary putting her fighting skills to work for whoever can pay the guild price for assistance.  She uses this role to hide the fact that she has an extra-normal affinity for magic. After all, she could become a pawn in someone else's grisly schemes if they knew how powerful she really is.
However, when her guardian, a member of the Order of Knights of Merciful Aid, is murdered in a particularly gruesome way, Kate vows to find his killer even if it means exposing herself to the magical world, working in the underbelly of the new society to uncover the truth taking on magical creatures she had no idea existed.
If you like your fantasy with a dystopian twist, then Ilona Andrews (really a two-person writing team) is a writer you should explore. And as the first in the series, if you wish to take up residence in dystopian Atlanta, you can stay there through many installments. Start your journey through Overdrive and the LIBBY app today, available though the Augusta-Richmond County Library. For more information, contact your local branch library or the Information desk at 706-821-2000.