The reviewer must admit C.S. Harris's Sebastian St. Cyr series is one of my favorite because of the well- drawn characters and detailed description of Regency London. Who Speaks for the Damned does not disappoint.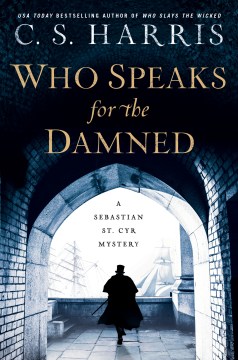 St. Cyr, Viscount Devlin is called in to investigate a brutal murder in the Pennington Tea Gardens. The victim, first believed to be a common tradesman, is actually Nicholas Hayes, a disgraced member of the noble Seaforth family. All are surprised that Hayes would return to England as he was transported for the murder of a diplomat's wife and under a death sentence should he return to his native shore. None are interested in bringing the man's murderer to justice.
None but Devlin, who develops a feeling of kinship with the deceased. As he stars to dig through Hayes's life, he increasingly finds an honorable man unfairly accused of crimes he did not commit.  Why is everyone so intent to prove Hayes a dastard?
Devlin finds four suspects that Hayes may have targeted for revenge These four targets could have actually killed Hayes himself. Whoever it is, they have gone on a killing spree, and victims start piling up along with the questions Devlin labors to answer.
Devlin and his wife Hero desperately hope that one person, a boy named Ji who is connected to Hayes, will not be found and murdered. While part of the book centers on finding a killer, another part hunts for an abandoned child roaming the underbelly of London without a guide or protector. The two stories intersect in a surprising finale but not before we meet many characters and glimpse their desperate lives.
Harris's books end with essays on historical points in her books and these are as interesting as the tale the reader has just finished.
If you would like to journey with Sebastian St, Cyr through murder and London, this is an excellent introduction to a spellbinding series. The book is available through the Augusta-Richmond County Library's LIBBY app. Contact your local branch library for information or assistance in loading e-books or audiobooks to your reading devices.